Hardware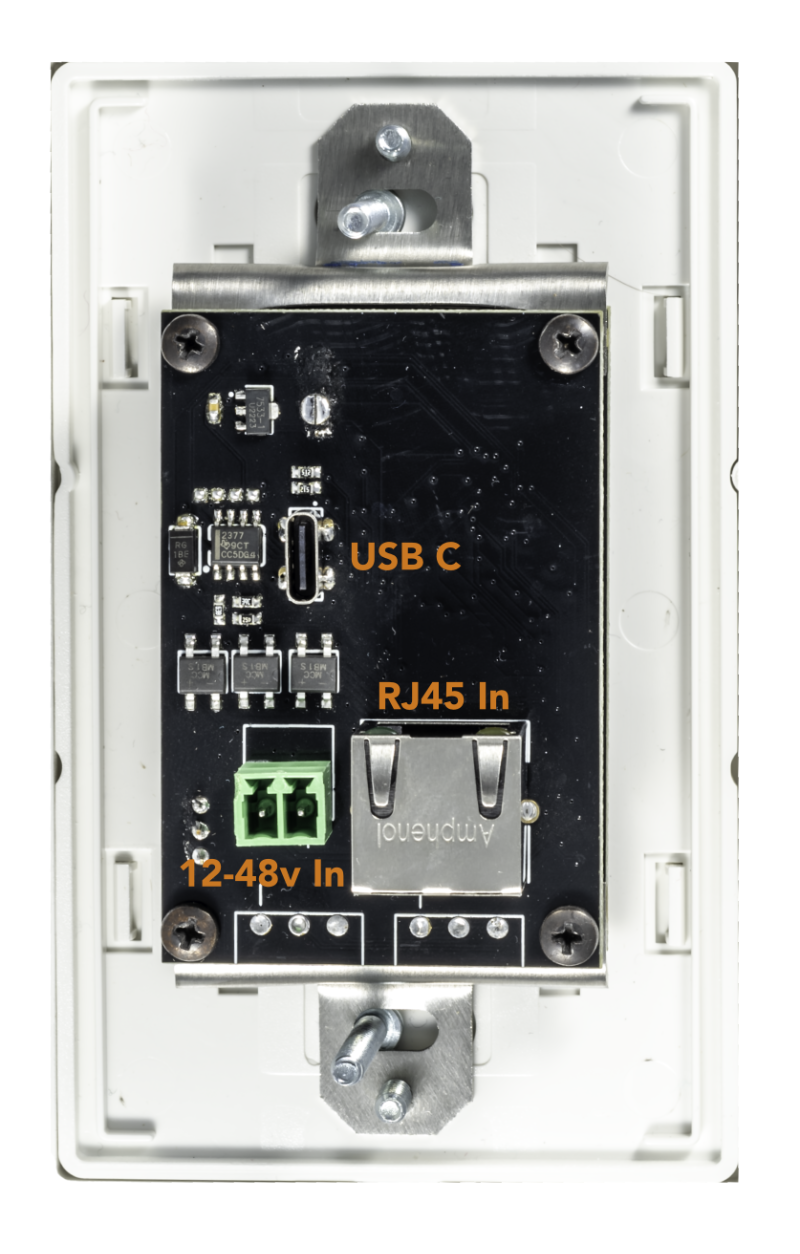 Looking at the back, you will see three connection points on Ganymede:
USB C - This is a data port only for firmware updates; it can be used to temporarily power the device.
12-48v In - This is one of two ways to power the device.  The power is polarity-free.
RJ45 - Provides access to the web interface for programming.  The device can also be powered with PoE through this port, if not using the 12-48v In.
Connecting Power
Ganymede can be powered in three ways:
Dedicated power supply
A dedicated power supply can be plugged into the 12-48v input. Power supplies do not ship standard with Ganymede, but can be supplied separately. Compatible options include:
PoE power
Ganymede can take both passive and active (i.e., 802.3af) PoE through the RJ45 input.
Passive PoE must be 48V - Ganymede does not support 24V passive.
Ganymede classifies as a Class 0 PoE device and will draw the minimum 0.44W at all times.
Actual power consumption will vary based on the LED brightness.
USB power (not advised)
The USB-C port is used for low-level firmware updates, but can also be used to power the device. However, the power supply filtering for this input is minimal, so we do not recommend using it for any sort of installation or production use.
Connecting Ethernet
If you haven't already connected Ethernet for power, connect your Ethernet cable to the RJ45 port now. This will enable programming through Ganymede's web interface.
Connecting Over your Network
Ganymede has a default IP address of 10.1.0.20 and a subnet mask of 255.255.0.0.  To connect:
Set the IP address and Subnet on your computer to be compatible.
Once you've set your IP, open any browser and enter Ganymede's IP address in the URL bar to sign into the Web Interface.
An example IP for your computer would be 10.1.0.2 with a subnet mask of 255.255.0.0.

Once you're connected to the web interface, you're ready to begin programming!